Monday, December 03, 2007
So long, Blogdrive, hello Blogger!
That's right, readership!
After wrestling with the RSS feed issues, I've decided to migrate the blog over to Blogger. You can now find Better Than Yarn at:
http://betterthanyarn.blogspot.com
Now, there aren't e-mail notification options, but you can set up an RSS feed on your computer by doing the following:
1) Look at your address bar. It should look like this:
2) Click on the RSS button. It looks like this:
3) This should take you to a page with this as the header:

4) Click "Subscribe Now". It will ask you where you want the feed to appear. I have a "Blogs" folder.

Alternatively, you could also add me as a friend in Ravelry- I'm cuteknitter - and the RSS feed will pick up my blog posts.

Posted at 05:34 pm by cuteknitter
Permalink
Sunday, December 02, 2007
I mentioned before that I wasn't going to participate in the madness that is holiday knitting, and that my list of things to finish before December 25th was limited to three items.
Item 1: The Top Secret Project
The recipient of the Top Secret Project reads the blogs, so there aren't any photos here. But I KNOW they aren't on Ravelry, so it's up there.
Item 2: Dad hat number one:
Item 3: Dad hat number two.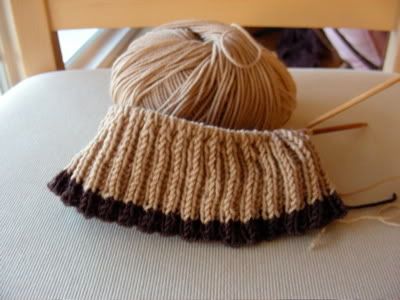 My father asked for two hats, and wanted them to be positive and negative to each other, in tan and brown. Despite my suspicions that he is color blind, I agreed. He also specified that the predominantly tan one have a dark brown edging so as not to show dirt as quickly.
Totally manageable, right?

Posted at 05:22 pm by cuteknitter
Permalink
Monday, November 26, 2007
I don't speak much code, and the little code that I do know is stuff that I tripped over accident. So, after about 20 minutes of looking at other blogs' page source information, I managed to piece together an RSS feed for Better Than Yarn.
I think this is pretty cool, only because I did this on my own, and then asked Mike to take a look at it to see if it looked right. Ok, it does! But.
On Ravelry, apparently Blogdrive's RSS feed is too slow to be picked up. This is a major drag. At this point, I'm not really sure what my options are, other than moving my blog elsewhere- and the only real hesitation there is that I'm not certain that I'll be able to just migrate over all the old blog posts. I really don't want to cut-and-paste four hundred individual posts.
So, I turn to you, my readers. Any ideas? Solutions?
Posted at 08:14 pm by cuteknitter
Permalink
Sunday, November 25, 2007
Wet Dog Never Smelled So Good
We try to bathe the dogs at least once a month to keep them from smelling too dog-adelic. Playing at the park with other dogs doesn't help, but the once a month regimen seems to work well for everyone. Especially Niki, who loves to be toweled off.
Dog Bath Day takes two people, one to be in the tub enclosure and wash the dog (me), and one to feed treats. We do a lot of treat-based positive behavior reinforcement, and it works. For this reason, the dogs love going to the vet, getting bathed, and having their teeth brushed.
Niki, our Alpha dog, gets bathed first. He'll hop into the tub (on command), and let us bathe him for 15-20 minutes before getting restless.

Once he's out (and gently toweled), Elphie gets help into the tub (she doesn't like to jump onto slippery surfaces). She's a smaller dog with significantly less fur, so it takes much less time to get her clean.
When we're done, they smell like Tea Tree Oil and look like this:
Posted at 08:14 pm by cuteknitter
Permalink
Saturday, November 24, 2007
November 22nd, Thanksgiving:
For Thanksgiving we went to the Plumed Horse. It's a terrific restaurant- it had a very classic feel before, now it's got a hip-per feel to it. Though I'm not a fan of "hip", the food and wine are still excellent. We had their Thanksgiving tasting menu (with the wine pairings), and it was all mind-blowingly amazing.
After dinner, we dropped Mom off at home, and headed over to the in-laws. The plan was, have some dessert, exchange names, go home.
At every in-law gathering, my SIL starts a conversation about eating brains, predominance of elderly and white child molesters, or some other random or "unsavory" topic. I feel that she does this to bait me into talking about it (which I try to do in an intelligent and academic way), and then does the teenage girl "Oh-my-God-you're-such-a-freak!" thing.
On Thanksgiving, one of the kids accidentally slipped and called her "Uncle", so she starts going on about gender reassignment. She started in about how "simple" it would be to become "Uncle".
A little knowledge can be dangerous, and I pointed out that from what I understood "M to F reassignment is usually more successful than F to M."
"M to F? F to M?" SIL asked.
"Male to Female. Female to Male," I said, and tried to leave it at that.
At this point, the discussion turned to how exactly one would construct a penis. Despite the small amount of knowledge I have, I refrained from sharing, refusing to be baited.
In my family of origin, this would be fairly common dinner conversation, without the insensitivity, in a genuine exchange of knowledge, regardless of the "appropriateness" of the dinner conversation.
After dinner, we headed home, and discussed the insanity of the sales going on the next day. Andrew mentioned that the Gilroy Outlets were starting their sales at midnight. Banana Republic was having 40% off of the whole store. Forty percent is enough for me to consider going just about anywhere.
Friday, November 23rd

Despite my plans to get up at 5 AM to be at Purlescence for the Pajama Jam Jammy sale at 6 AM, I agreed to go to the Outlets at midnight. So, at midnight, we get in the car, and drive. Around 1 AM, we are in Gilroy, stopped on 101. Not just stopped. Parked.
"It must be an accident. This can't be shopping traffic," Andrew said.
He turned on the radio. No accident.
"I'm sorry, if this is the traffic, I don't have the balls to do this," I tell Andrew, "Let's go home."
As we exited the Southbound freeway, and went over the ramp to get back North, I looked over, and for five solid miles, all you could see was bumper-to-bumper brake lights. I shuddered as we drove home.
We arrived home at 2 AM, I brushed my teeth, put on my pajamas, and fell into bed at 2:30.
5 AM: Alarm goes off. I call Cynthia to remind her that we're going, at her request. I wake Mom up. Curl up in bed for 15 more minutes to snuggle with Andrew and the dogs. (Snuggling the dogs is required, upsetting the routine is bad.)
5:30 AM: Brush teeth. Notice that my Thanksgiving makeup (applied less than 12 hours before) still looks fresh. Add nude lipstick. Wish for a swift and sudden death, since I am so tired the world is spinning. Regret all "good" ideas.
5:45 AM: Whine at Mom to get moving. Dither. Wonder if I can get out of the brunch plans I may have made before the "good" idea to go to the Gilroy sales.
6:00 AM: Start driving.
6:13 AM: Get a call from Cynthia, asking where we are. For once, we are late, and she is waiting for us. Mom and I laugh.
6:15 AM: Arrive at Purlescence. People are chipper. I collect the handful of items that I want to purchase, pay, and sit in a chair, trying to stay awake and not barf from exhaustion.
8:30 AM: Everyone finishes their purchases, and decide that they want to go to brunch. I agree.
8:45 AM: Get to Stacks, get on their ridiculous "list". Wait and complain. I secretly decide that Stacks is the devil, and I'm never going back. And their coffee sucks.
9:00 AM: Get seated. Eat. Let the Minions know that I'm planning to veg and eat cupcakes (in honor of the birthday), and they're welcome to join me.
We spent the rest of the day, spinning, knitting, vegging out, and Mom made me Devil cupcakes (at my request) based on a picture I found in Flickr.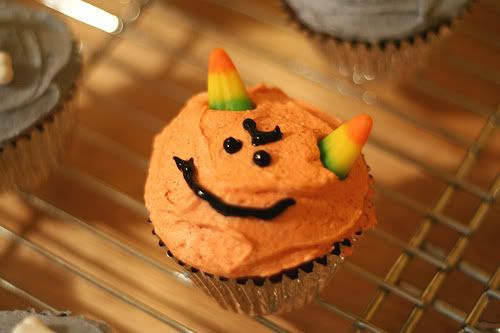 [Photo by freakgirl, used with her permission.]

Cute, huh?I'll post pictures of the haul from the sale later.
Posted at 08:40 pm by cuteknitter
Permalink
Friday, November 23, 2007
It's my birthday.
There will be shopping, coffee, and excessive TV watching.
Party on.

Posted at 12:00 am by cuteknitter
Permalink
Monday, November 19, 2007
For my birthday and Christmas gifts, Andrew is giving me 21 bumps of Crown Mountain Superwash merino roving. If you've been reading the blog this last year, you've seen bump after bump turn into yarn, and eventually socks. When the new colors went up, I used every last ounce of resistance that I had, and when the Minions ordered theirs, I did not order a single bump.
Two days later, while I was driving home, I was listening to Lime and Violet, and they were talking about doing a co-op order. The Minions had placed an order large enough to get halfway there- mine would get us to about 80% of the total. I got on the phone with Klaus IMMEDIATELY, and got working on what we needed to do to qualify for the co-op pricing.
I'll say right now that I think he's much more accommodating than I would be (in his shoes). I made it easy for him, and placed one giant order, had him ship everything to my house (or headquarters for the local wool cartel), did some math, entered it in a spreadsheet, sent e-mails, and played wool fairy. Playing wool fairy was the best part.
Getting back to the topic at hand, at some point this last year, my two-ply became too thin to (realistically) knit socks with, so I transitioned over to 3-ply. 3-ply yarns are rounder and look more like "real" yarn. It made the color transitions much more subtle, which is different (not good or bad, necessarily), and I think that the 3-ply socks are wearing a little better.
My last bump of Crown Mountain (Wild Thing) turned into a light fingering weight. That's three plies of the wool and one ply of silk. I have shown myself that I can spin very fine yarn. The sick thing is that I LIKE it. It looks even real-ER than just 3-ply.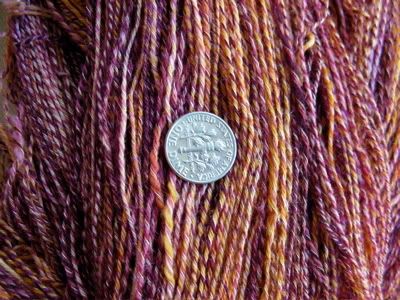 I've been spinning the Twist and Shout at that same, very fine weight on the Victoria, and I started a sweater spinning project on the Schacht.

(One ply of the Twist and Shout)

(This is the roving for the sweater.)

By force of whorl and will, I think the yarn for that sweater will be a light worsted weight 3-ply.
Here's the question: Now that I have better control of how my yarn comes out, should I spin it a little thicker and 2-ply it, do a slightly lighter 3-ply, or continue on with my current insanity?
I worry that if I change what I'm doing, I'll look back on the yarn and be annoyed that I didn't do the other two options, because CLEARLY those were better ideas. I have AMAZING powers of hindsight. With the generous 8.5 ounces, I could do both. It just requires a little more math.
You know how I love the math. There may also be an Excel spreadsheet, for added nerd points.
Posted at 08:06 pm by cuteknitter
Permalink
Sunday, November 18, 2007
I'm not one of those nice knitters who knits for everyone. "Nice" isn't really a word I would use to describe myself, but that's a whole different story.
I went to Purlescence for movie night, and Tony read one of Stephanie Pearl-McPhee's short bits from The Yarn Harlot- "It", and I realized, that in the last seven years, I have NEVER been defeated by "It".
Maybe, it's because one year, where I thought I would knit for The Boyfriend's whole family, my mother sat down with me, and pointed out that I was killing myself over something that wouldn't matter to them. Fair enough. This whittled down the list from six knitted items, down to two. Baking is faster than knitting- and more appreciated by the non-knitters.
The first Christmas that Andrew and I were together, I was so in love (in lurve, even) with him, that I knit him a sweater. I knit him a sweater in Silky Wool on size US 3 and US 5 needles. I hunted down the missing color on the internet, and got it from an online yarn shop that was closing it's doors at the end of that week.
I finished it two days before Christmas. Ends woven in, and everything, so that he could wear it to the holiday stuff we were doing. I also didn't knit on it in front of him, which was a challenge. But I did it.
Since then, the only other Feat of Insanity was when I decided that in the two months between Stitches West and Andrew's birthday, I would knit him SIX pairs of size 12 men's socks. With colorwork. Clearly, I needed to up my meds. Those got finished, too- even though I wove in the ends right before I got to the restaurant for the birthday celebration.
For Christmas, I have usually only knitted my father a hat, to match whatever running suit Mom and Sam bought for him. This year, he asked for two. (Pictures to be posted when they're taken.) I'm also working on a Top Secret Project for _____ with _____. ______ totally kicked my butt on her half, so I have to catch up, or risk utter shame and a wicked asskicking from both _______ and _______. I bought the tools for success, so I should be able to get on that, but spinning has my heart for now. And possibly my liver and kidneys as well. But the holidays are coming, and I committed to doing this like two months ago. (My half is half done, so we're 75% there, minus the finishing.)
So, my Christmas knitting is limited to two hats, and ˝ of the Top Secret Project.
Not bad for having more than 25 days to finish, right?
Posted at 08:39 pm by cuteknitter
Permalink
Saturday, November 17, 2007
Andrew and I have been together for a little over six years. In this time, we've both gone through some significant life changes. (Duh.) While we were folding a long-overdue load of handknit socks, I asked Andrew to pull out his favorites.
From time to time, I like to try and gauge his tastes for future purchases (yarn, clothing, whatever), and I noticed that some of his former favorites are in the "giveaway" pile. I've been purging my handknit socks, which entails giving away 20-30 pairs of my handknit socks to make room for the new socks that I've finished. For whatever reason, I just don't love these socks anymore. Giving away unloved socks doesn't' phase me in the slightest.
Recently, Andrew asked me to knit him some black socks to wear to work. In 2002, his favorite socks were made out of the Mannings "Wool in the Woods" C.W. Ewe, his tastes are now running towards Trekking, Regia, and Meilenweit Jacquard. Thus began the Black Sock Project; all of the socks that I knit for him (for the time being) will be black-ish, until I've knit all of the black(ish) yarn that I've bought for him.
Want some examples? Here you go:
I think that the funniest part of the conversation was where he was surprised that the socks had lasted six years- and his tastes had changed before the socks wore out.
If you want to see the progress of the Black Sock Project, you can see it on my Ravelry page. For now, I'll be plugging away at alternative black socks for Andrew- and Day-Glo socks for me.
You know, to keep the universe balanced. I'm all about the balance.
Posted at 08:46 pm by cuteknitter
Permalink
Friday, November 16, 2007
The land in which customer service is king
I'll be honest with you- if I'm treated poorly in a store, I won't go back. Having learned the valuable lesson about financial independence at the ripe old age of six, I have always believed in the power of the consumer. [This lesson was courtesy of Auntie Wolf, which I'll likely post soon.] Good customer service always warrants praise; bad customer service warrants the dreaded word-of-mouth anecdotal kiss-of-death.
I shop at stores where I am treated well, and I buy products that are of the quality that their pricing dictates. I won't post pictures of yarn from companies that do not stand behind their products. If I have noticed a problem with their yarn, and they have not dealt with it to my satisfaction (knots, deceptive labeling, etc), they won't get any promotion here. I'm not so petty as to rip down posts where I had previously mentioned them, but I also won't give information that will help support what I consider to be bad business practices. I hold myself to certain standards of integrity, and as a reader, you are entitled to the fruits of my experience.
So, here is how I go about dealing with a product problem:
Step 1: Notice the problem.
Step 2: Call the LYS that I bought it at. If I ordered it directly from the company, call them. Politely address the issue.
I'm going to emphasize the politeness. Nobody likes dealing with a raging knitter. Take deep breaths, and remember that these are generally nice people who like knitting, knitters, and what they're doing. The nasty people are the exceptions, not the rule.
Try to laugh about the mishap, while still gently impressing the importance of the problem.
Step 2a: Call the company directly, if possible. Repeat schpiel from the LYS discussion, let them know that you've talked to the LYS.
Step 3: Work out a solution.
Step 4: Knit happily ever after.
So, for your reading (and shopping) pleasure, here is my most recent customer service experience with Claudia's Handpaints.
Phase 1: The Issue
The yarn: Claudia's Fingering weight merino- Ink, dyelot 004.
The project: Andrew socks, men's size 12. [For those playing the home game, that's 7" of cuff and 12" of foot.] One pair of many in the "Black Sock Project".
Ink socks, Take 1:
I cast on, and plowed through the first 6" of cuff. Knot. Okay, knots aren't cool, but one, I can deal with. Knit another 1/2". Four knots in less than ten yards. Uncool.
Go to Purlescence, show the Purl Girls. I fork over the cuff (7" at this point), and they happily hand over a new ball, and apologize for the inconvenience. Awesome.
Ink socks, Take 2:
Cast on. Plow through cuff, heel, instep. Go see Dan in Real Life. In the theater, knit 8" of foot. Knot. Sigh, consider the [7 + 8] 15 inches of sock knitted, plus the lost 7 inches [Home Game: 22" of men's sock knitted so far], and decide to continue. Hit 7 total knots before the end of the foot, most of them, in the toe. Sigh, and complain at Andrew.
Call Purlescence, show them the frequency of the knots (marked with stitch markers), laugh at the horror. E-mail Claudia.
At this point, I'm a little miffed. I weigh how much yarn I have left on the ball (5g), and talk to Andrew about using something different for the toes, because I'm not comfortable with so many knots being in the toe box of his shoes. What's the one thing I like less than knitting black socks? Darning black socks that Andrew has grown attached to.
I got a lovely phone call from one of Claudia's elves (whose name slips my mind at this moment), where we talked about what had happened, and how to resolve it. At the end of the call, everyone was happy, and I had a preview of what Purlescence is getting in the mail next week. (Bwa ha!) I also have the distinct pleasure of knowing that Claudia (& Co) really do care about putting forward quality products
Now, so do you.

Posted at 08:43 pm by cuteknitter
Permalink